Private and Online Personal Lessons
Tony's Lessons and Workshops
Special FIRST-TIME student Trial Lesson!
one-hour online lesson for only $30
(anyone who has NOT previously taken a lesson with Tony before)
You can now easily take private lessons with Tony online or in person! Tony teaches students at all levels and can either take place at Columbus Sound Studio or Live Online. Private lessons in the studio may even include recording a demo. Lessons are filmed for you to preview and reference the lesson afterwards!
Whether Live online or in person, countless students have benefited from his personal approach and 51 years of musical experience as a worldwide B3 player and educator. Learn the techniques and practices straight from the source; from organ tones/set up, crafting bass lines, expanding your harmonic knowledge, learning and arranging songs for organ, playing in a wide variety of styles and much more.
Hear what Tony has to say about taking lessons with him:
"Students range from beginner to the most advanced. I've helped many students move on to get record deals, touring gigs and a career in music! I can help you at whatever level you are as long as you're willing to learn and engage.
After having 5 successful releases on Summit Records, I went into business with Summit to start Chicken Coup Records. East to West was the first release on the new Coup and we now have 28 releases featuring many students who have released their projects!"
Purchase 6 Lessons $260
Prepurchase 6 Lessons. Must schedule the 6 lessons within a 3 Month period!
Purchase 2 Lessons $95
Prepurchase 2 Lessons. Must schedule both lessons within a Month period!
Purchase 1 Lesson $50
You can purchase as many as you like by adding them without a time constraint!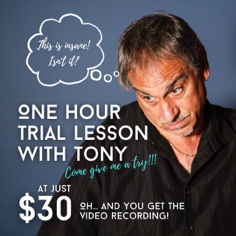 Purchase 4 Lessons $180
Prepurchase 4 Lessons. Must schedule the 4 lessons within a 2 Month period!